Supervisory Control and Data Acquisition System for Railways Points Heating (SCADA RPH)
Supervisory Control and Data Acquisition System for Railways Points Heating (SCADA RPH) is an innovative product of KTN SIA under development and testing. The system is intended for management of railways points cleaning from ice and snow during winters. It establishes the modes and regimes of cleaning based on the analysis of the main factors affecting the points' condition.

The main distinctive features of SCADA RPH are:
Autonomous system providing fully automated control of point's heating (cleaning)
Comprehensive analysis of a plurality of weather factors causing icing and clogging of points, including snow and rain, air and rail temperature, air humidity and snow blizzard at the point
Real-time monitoring and flexible setting of cleaning regimes: duration and power
Selection of cleaning modes: heating or blowing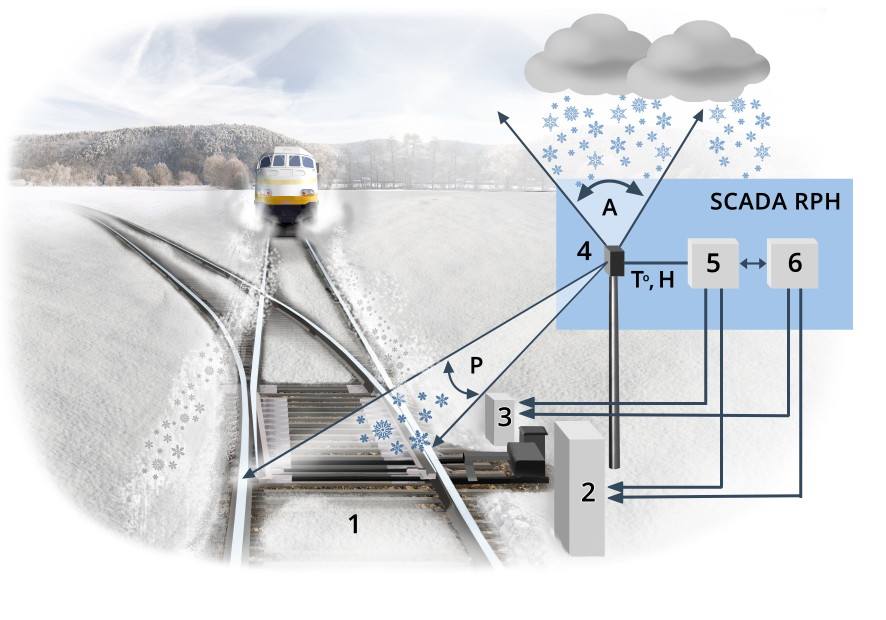 1 – railway point; 2 – heating control cabinet; 3 – snow blower; 4 - snow sensor; 5 – controller; 6 – remote workstation at dispatcher's place; A – observation of atmospheric precipitation; P – observation of blizzard around point; T0, H – temperature and humidity sensors.
The core of the system is an innovative optical snow sensor. It detects snow and measures intensity of snowing in real time both in the atmosphere around the sensor and at the ground in the point's area as the blizzard from wind and passing trains. Complex analysis of diffuse and direct reflections provides the reliability and accuracy of detection of precipitation, recognition of precipitation type, and measurement of its intensity regardless of the wind direction and in a wide range of ambient illumination from total darkness to bright sunlight.
Advantages proposed by SCADA RPH:
Significant savings of electricity spent to heat railway points due to selection of optimal regimes
Selection of optimal cleaning mode depending on weather conditions
Reduction of manual work and elimination of human factor in decision-making
Trial exploitation carried out at the Latvian Railways since 2013 demonstrated reliable detection and essential saving of electrical power for points' heating.
---
Optical detector of road conditions
Idea


Compact optical detector placed in the interior of a car on the windshield and processing reflected signals from the road with high speed by the car driving
Detection distance: about 15 meters ahead the car, allowing timely measures at driving speed up to 150 kmh
Measurements possible at any ambient illumination varying in wide range from 10-4 lx (darkness) to 105 lx (bright sunshine) and immunity to optical obstacles like checkered light and shade;
Recognition of road conditions such as: wet, icy and covered by snow
Experiment
| | | |
| --- | --- | --- |
| | | Optical detector and controller were fixed on the windshield in a car interior. Signals from the controller were recorded in mini-laptop and viewed in real time. Sampling rate was 200 Hz; the amplitude of recorded signal was in arbitrary units. |
| | | Optical signals were recorded by car movement from dry surface and then from the same surface with a wet spot (1.5-2 m2) and snow spot mimicked by grounded ice (0.5 m2). |
Sensitivity to wet and snowy road conditions was demonstrated
Changes of optical signal due to wet and snowy conditions exceed variation in dry surface
---
Automatic Optical Inspection of small surface defects in stamped products
Features and benefits:

Use of a single optical detector or an array of detectors performing 2D scanning of the examined surface with linear speed up to 1m/s.
Analysis of uniformity of the pattern formed by reflection signals from the surface in real time and recognition of defects of the surface, such as concavities and convexities of the order of a few microns, scratches and pollution dots.
Lightweight, possibility of mounting on a robot arm.
Resistance to noise factors in industrial environment.